The midlands and upcountry were blasted with an early bout of winter weather on Saturday morning. Record snow fell as far south as Columbia, coating trees in a thick, white blanket. Growing up near Chicago, I was never a stranger to unpleasant meteorological systems. Whether one contained damaging hail, violent winds, or a debilitating amount of snow, it was an expected consequence of Midwest living. In fact, one of my reasons for migrating south was to enjoy a more temperate climate. However, Saturday's unusual weather phenomenon reminded me of one I experienced last winter right here in the Lowcountry.
At the end of January, the state was hit with a dangerous ice storm. Inland, massive, ice-coated tree branches fell, compromising roads and downing power lines. Thankfully, along the coast, we suffered only minor damage, most of which was evident once the spring arrived and the plants failed to resuscitate. The lack of incidence was also attributed to excellent storm preparation. Charleston and the surrounding areas, in effect, completely shut down. Businesses, government agencies, schools, and essential bridges and roadways were closed. People relinquished control to Mother Nature, allowing her to decide when normal life would resume.
The storm came in the inky darkness. All through the night I heard the pinging tones of ice drops pattering upon the roof above me, as if it was made of tin. When I woke the next morning, I was greeted by the peaceful silence that often accompanies a fresh snowfall. I looked out my window and was amazed to find fine white sparkles dusting the surface of the earth. Everything above ground was paralyzed in an icy glaze.
Breathing in the crisp air, I walked outside among the trees surrounding my house. Camera in tow, I was thrilled to capture the effects of this unique experience. It looked as if nature was putting on a lovely ballet that was halted mid-performance. Leaves were elegantly arranged in a motionless arctic dance. Sheath-covered pine needles formed graceful arches and curves. Suspended water droplets clung to vines creating a crystallized corps.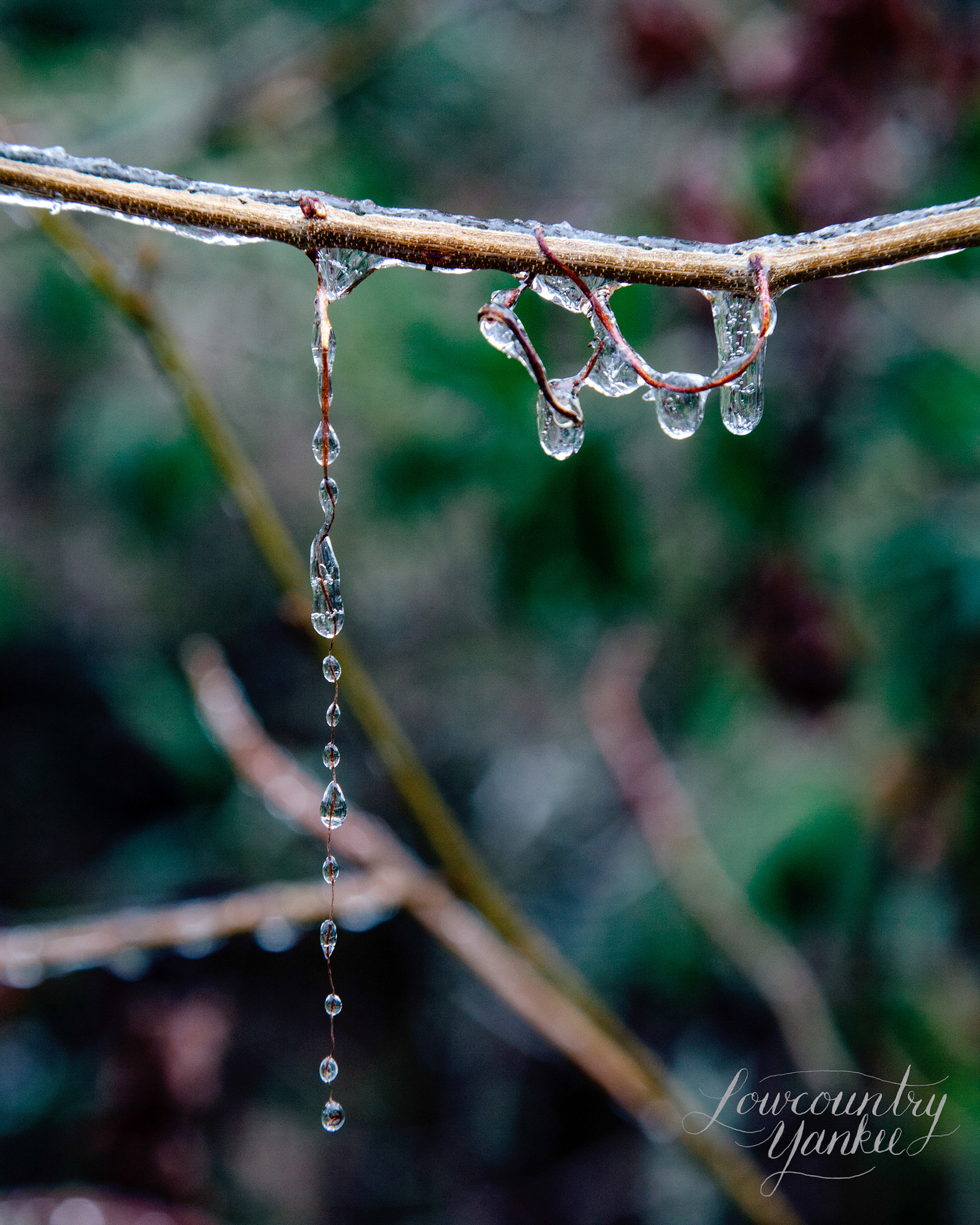 The following day, the curtain was drawn on my ballet as the Lowcountry began to thaw. Fleeting as it was, I will not soon forget that enchanting spectacle. Reflecting on the storm, I am reminded of a quote from Emerson's Nature: