The Brainerd Building has been a cornerstone in the landscape of Libertyville, IL since 1917. It was the first high school built in Lake County with students matriculating from as far away as Fox Lake. By 1954, with a newly constructed building located down the street, Brainerd became freshman-only. By 2003, it was reduced to a storage unit. Over the next few years, Brainerd Community Center, Inc., a non-profit organization, attempted to save and restore the nearly 100-year old structure. In its efforts, the group was able to achieve National Register status in 2008 and Brainerd was placed on Landmark Illinois' Ten Most Endangered list. Unfortunately, the enormous cost of renovations ultimately determined the project's fate. With its impending demolition (and as a former BCCI volunteer/board member), I felt compelled to share my favorite anecdotes and photographs shot in 2007/09 .
The following is an excerpt from an article I wrote in 2010 for Libertyville Patch:
Many famous folks graced the halls of Libertyville Township High School. Most notably, from 1939-1941, Marlon Brando attended the school. During his time there, he was a member of the Curtainraisers Club and the track team. As many recall, he was not the most serious student. Brando's English Literature teacher, Anna Johnson, would tell her students tales of his trickery. According to Anna J's student, Mickey Alkire, Brando removed the hinge pins from Anna's classroom door. When it came time to open it, the entire thing came out of the frame! He also refused to read Julius Caesar in her class because it was "not worth his time." Ironically, he played Mark Antony in the 1953 motion picture adaptation. Something tells me he ended up reading it after all!
During World War II, the Jackson Gym hosted a War Bond Rally. The special guest in attendance was none other than Helen Keller! Though she was unable to communicate with the crowd, her presence spoke for itself. Other notable alumni have included Tom Morello of Rage Against the Machine, MLB player Brett Butler, and WGN-TV News Anchor Mark Suppelsa.
To rephrase George Bailey: Merry Christmas, you wonderful old Brainerd Building!
I'll miss you.
First images: Classroom, art room, ticket booth, Jackson Gym
Gallery one: Running track, basement classroom, from the stage, science lab, repurposed rec room
Next images: Hallway, classroom, doorway, classroom next to Jackson Gym, peeling walls of the Tunnel , the "Tunnel"
Gallery two: Hallway from central open area, classroom with platform, original skylight, basement/cafeteria area, sink and ladder leading to roof, light through a classroom window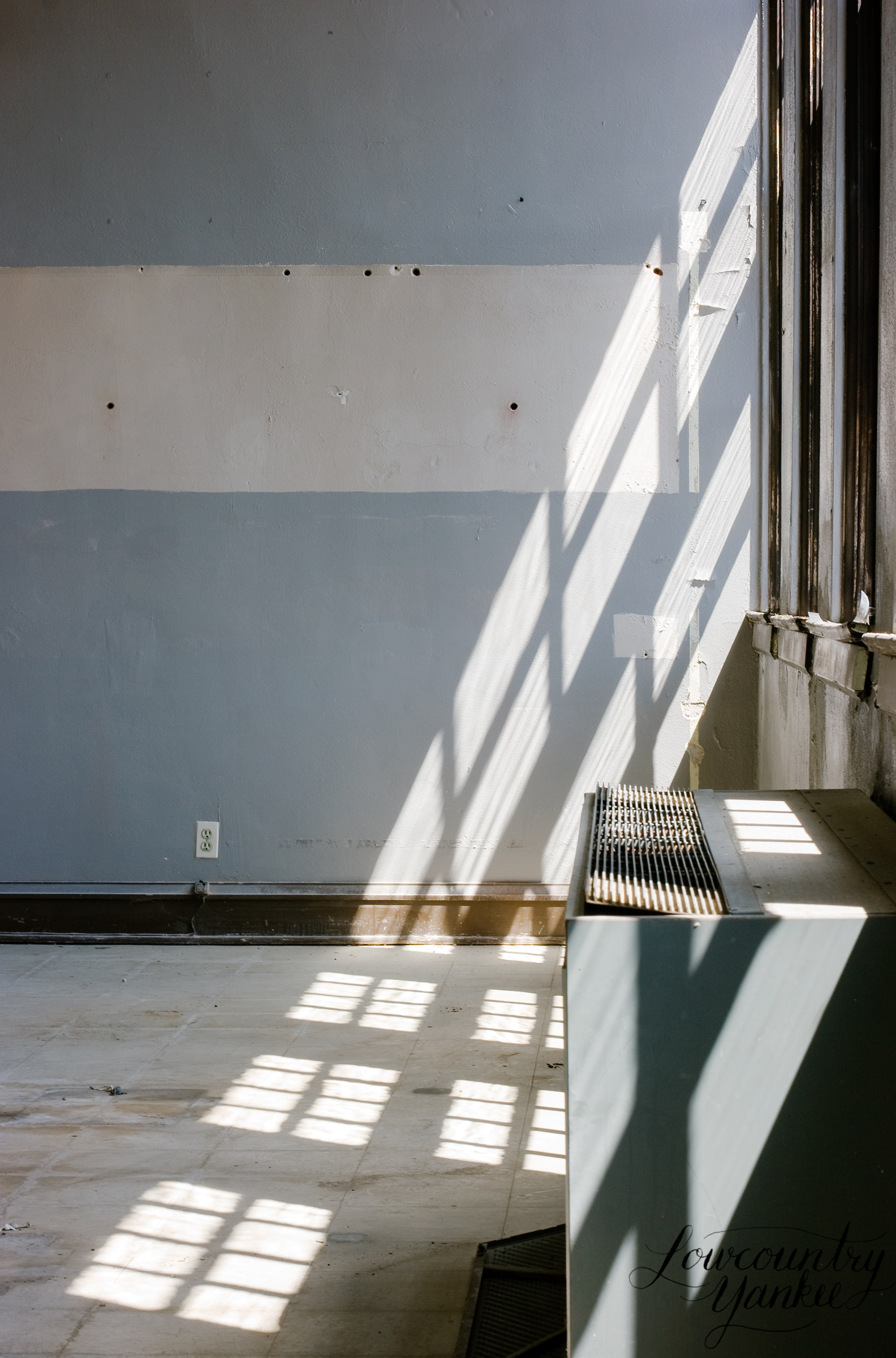 "To everything, turn, turn, turn.
There is a season, turn, turn, turn.
And a time to every purpose under heaven.
A time to build up, a time to break down.
A time to dance, a time to mourn.
A time to cast away stones.
A time to gather stones together."