Admittedly, spring has never been my favorite season. I've always preferred the warmth of summer, the colors of autumn, and the coziness of winter. A lot of that has to with the springs I experienced while growing up in Illinois. They consisted of a mix of chilly temperatures, sleet-filled skies, and soggy sidewalks. Just as I would feel a glimmer of hope, seeing grass blades poking through the snow, a fresh blanket would come hurling from the sky like a cruel joke. Spring (as we think of it with blooming trees, green grass, and mild temperatures) didn't arrive until late May. And when it did it lasted but a fleeting moment.
In the past few years I've learned a simple rule: if you want to experience autumn at its finest, head to New England in October; if you want to witness the definition of spring, visit the South in April. Mind you, spring in the Lowcountry is not without its own set of challenges. We have an enormous amount of tree pollen. Everything (and I mean everything) is coated with layer of chartreuse dust. Also, warmer weather means the awakening of many unwelcome creatures, namely alligators and snakes. However, the beauty of blossoming azaleas, fragrant jasmine and wisteria, and bright green bursts of leaves push these minor inconveniences by the wayside.
This year in particular, I have been greeted each day by colorful surprises dotting our rustic roads:
Around this time of year, everything in the late afternoon takes on a hazy, golden glow. The light filters through newly formed leaves turning rustic farms into charming retreats. Weeks ago, what was just a haunted barn standing in a bleak, grey landscape now becomes an enchanting playground....the red wood siding contrasting beautifully with its surroundings. Dirt lanes, peaceful creeks, and moss-covered fences highlight the joys of simple, country living.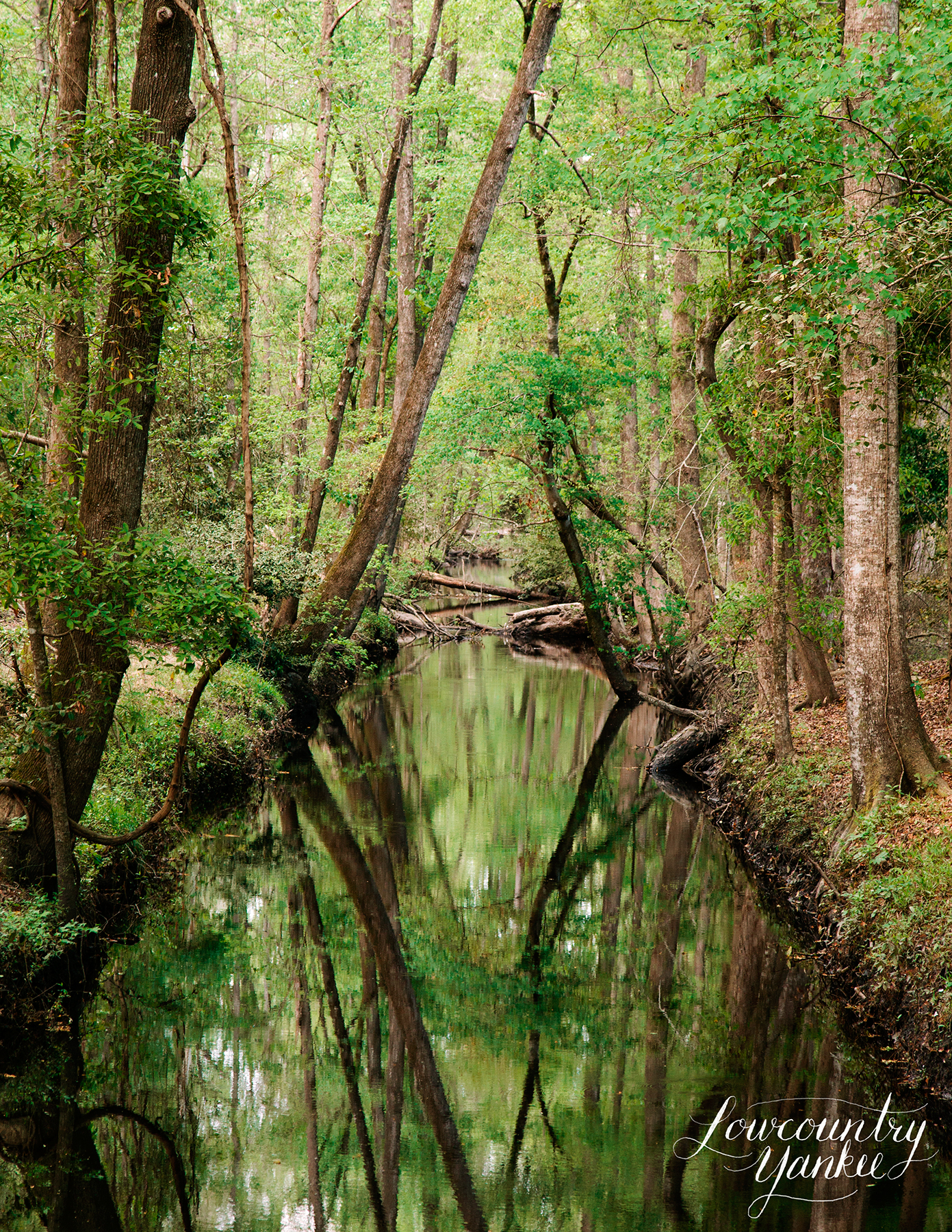 Soon, our mild temperatures will give way to thick, humid afternoons. Strolls through azalea-lined lanes will be replaced by long walks on the beach. And cool, quiet nights, will yield to steamy evenings filled with the melodious conversations of crickets and frogs. Until then, with a new-found appreciation for spring, I will enjoy the abundant, colorful April days that I am lucky to experience in the Lowcountry.